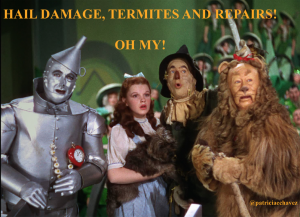 This has been a very busy week. 5 homes under contract, 5 inspections going on and numerous repairs to negotiate.
Shockingly, 3 of the homes have Live Subterranean Termites that need to be treated. One of them happens to be a brand new home.  That's not something I see often.
Due to the heavy storms we had last month, 2 of my homes have severe hail damage. Both of them will require brand new roofs.  One of them was hit so bad, the hail actually went through the roof decking, causing water damage in the 2nd floor ceiling.
Two homes need HVAC repairs and yet another has a septic system that has failed because the drainfield lines need to be replaced.
I can't stress enough, on the importance on getting a good quality Home and WDI Inspection, whenever you are purchasing a home.  This is done during the Option Period that is negotiated.  It's the only time my clients can decide if they want to move forward on the purchase of the home.  Whether we are able to negotiate repairs or not, my clients know what needs to be corrected so that they can make an informed decision.
Happy home hunting! Let me know if I can be of assistance with any of your Real Estate needs.
Patricia Chavez, CCIM, ABR, MRP
Residential, Commercial and Military Relocation Professional REALTOR®
Keller Williams Heritage
(210) 504-9920